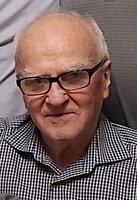 Gilles Rouleau
Né à Magog, Québec
11 juin 1938 - 22 mars 2022
La famille de Gilles Rouleau de Fort Erie est attristée d'annoncer son décès le 22 mars 2022, à l'âge de 83 ans.
Il laissera dans le souvenir de ses enfants Nelson (Pierrette) et Marc (Simone); ses six petits-enfants : Michel (Cassandra), Nathalie (Kyle), Daniel (Tabitha), Mélyse (Sean), Jacob (Emilie) et Samuel; neuf arrière-petits-enfants Alex, Sofie, Lincoln, Benjamin, Charlotte, Chase, Owen, Auli et Bauer; soeur Rollande Buote (Len), ainsi que d'autres membres de la famille et amis.
Il a été précédé par ses parents bien-aimés, Lilliane et Joseph, et sa soeur Gilberte Rouleau.
Certains se souviendront de Gilles pour ses 40 années passées chez Atlas Steel. D'autres se souviendront de lui pour son amour de ses petits-enfants et arrière-petits-enfants, ses talents de menuisier et sa relation amour/haine avec ses Canadiens de Montréal et les Cowboys de Dallas. Il avait une forte affection pour une bière fraîche, du Riesling et du sirop d'érable. Il aimait aussi les chiens, les chevaux et les oiseaux (pas les écureuils).
Gilles était fier des réalisations de sa famille et attendait toujours avec impatience les visites familiales. Michel se souviendra d'avoir été là pour son grand-père chaque fois que Pierrette et Nelson sortaient de la ville.
La famille tient à remercier tout particulièrement les premiers intervenants et le personnel du service d'urgence de l'Hôpital général du Grand Niagara pour leurs soins et leur compassion.
_____________________________________________________
ROULEAU, Gilles (Gil)
Born in Magog, Québec
June 11, 1938 - March 22, 2022
The family of Gilles Rouleau of Fort Erie is saddened to announce his passing on March 22, 2022, at the age of 83 years.
He will be lovingly remembered by his children Nelson (Pierrette) and Marc (Simone); his six grandchildren: Michel (Cassandra), Nathalie (Kyle), Daniel (Tabitha), Mélyse (Sean), Jacob (Emilie) and Samuel; nine great-grandchildren Alex, Sofie, Lincoln, Benjamin, Charlotte, Chase, Owen, Auli and Bauer; sister Rollande Buote (Len), as well as other family members and friends.
He was predeceased by his loving parents, Lilliane and Joseph, and sister Gilberte Rouleau.
Some will remember Gilles for his 40 years working at Atlas Steel. Others will remember him for his love of his grandchildren and great grandchildren, his woodworking skills and his love/hate relationship with his Montreal Canadiens and Dallas Cowboys. He had a strong affection for a cold beer, Riesling wine and maple syrup. He also loved dogs, horses and birds (not squirrels).
Gilles took pride in his family's accomplishments and always looked forward to family visits. Michel will remember being there for his grandpa every time Pierrette and Nelson went out of town.
The family wishes to send a special thank you to first responders and the staff at the Greater Niagara General Hospital emergency department for their care and compassion.
The family will be receiving relatives and friends at the WELLAND FUNERAL HOME, CREMATION AND RECEPTION CENTRE on Monday, March 28, 2022, from 1 p.m. until service time at 3 p.m. As an expression of sympathy donations made to Children's Hospital of Eastern Ontario or The Hospital for Sick Children would be appreciated by the family.