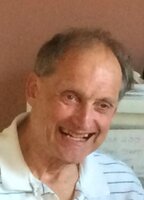 Robert Toulouse
Robert "Bobby" Toulouse passed away suddenly on November 11, 2021, at the age of 63. Son of Louis Roch Toulouse and the late Marie Toulouse. Survived by his sisters Gina Chambers (Bruce), Joanne Toulouse & his brother Dave Toulouse (Jaye). He cherished his nieces and nephew; Vanessa, Marc, Jillianne, Katelyn, McKenzie and his great niece Bria.
Robert loved all sports and bowled for many years. A very special thank you to the group home staff that went above and beyond with their care of our brother.
The family will receive relatives and friends at the WELLAND FUNERAL HOME CREMATION AND RECEPTION CENTRE 827 East Main St., Welland, Thursday, November 18, 2021, from 11:00 a.m. until service time at 1:00 p.m. in the funeral home chapel. Interment will follow at Holy Cross Cemetery. Please click the R.S.V.P. link through our website to schedule your attendance. For those that do not have access to our website please call to reserve your attendance. Those that attend are required to wear a mask and follow social distancing guidelines. Lining-up and cycling of guests will be managed by the funeral home staff both indoors and outdoors. As expression of sympathy donations to the Welland and District Humane Society would be appreciated by the family.