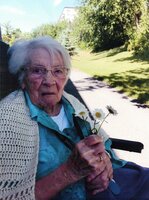 Gilberte Marie Fournier
After a long life well lived, we announce the passing of Gilberte (née Charbonneau) Fournier on October 22, 2021, at the age of 103. She will be dearly missed by her son Roch (Cynthia) Fournier. Gilberte is now reunited with her late husband Alfred Fournier (1997).
Gilberte was born in Orleans, Ontario in 1917 and moved to Welland in 1951. There she worked as a teacher for 28 years, shaping the future of many children including her own.
WELLAND FUNERAL HOME has had the honour of being entrusted with the funeral arrangements. The family will receive relatives and friends at Paroisse Sacré-Coeur for the Funeral Mass on Saturday, October 30, 2021, at 11:00 a.m. Guests must reserve their spot to attend. Please click the R.S.V.P. link on our website to schedule your attendance. Those that attend are required to wear a mask and follow social distancing guidelines. Lining up of guests will be managed by the funeral home staff both indoors and outdoors. Interment will follow at Holy Cross Cemetery. As an expression of sympathy donations to the Canadian Cancer Society will be greatly appreciated by the family.