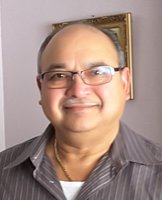 Paul Dass
Pharalad (Paul) Dass - 1958-2021
It is with great sadness we announce the death of Paul Dass on August 10, 2021 at the age of 63. Cherished husband of Tootar Dass. Loving father of Charles Dass, Shawn Dass and Joanne Quintal. Caring stepfather of Shiva, Lystra and Lisa. Beloved brother of Dennis, Data, Nevil, Samuel, Zena, James, Baby and Rita. Loving and adored grandfather of Nathaniel, Neveah, Divinity, Daniel, Aisha, Fatima, Julian, Jaylen, Adrianna and Sydney. Treasured uncle to many nieces and nephews. Paul was predeceased by his beloved parents Charlie and Hannah Samdass and dear brothers Samuel, Joseph and David.
Paul worked hard and made many friends at the Ford Motor company over his 35+ years there. He was adored and respected by everyone that was fortunate enough to cross his path. Paul will be deeply missed and forever held dear in our hearts.
The family will receive relatives and friends at the WELLAND FUNERAL HOME 827 East Main Street, Welland Thursday, August 12th, 2021, from 2:00 - 4:00 p.m. and 6:00 - 8:00 p.m. Funeral service will be held at the Welland Funeral Home on Friday, August 13th, 2021 at 12:00 p.m. Please call the Welland Funeral Home at 905-735-1883 to schedule your attendance. Those that attend are required to wear a mask and follow social distancing guidelines. Lining-up and cycling of guests will be managed by the funeral home staff both indoors and outdoors. If desired, donations to the Heart and Stroke Foundation would be greatly appreciated by the family.