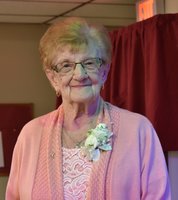 Bernadette Audit
It is with deep sadness that we announce the passing of Bernadette Audit on July 9, 2021 at the age of 103. Loving wife of the late Ernest Audit of 40 years and loving wife to the late Salvatore DiGangi of 20 years. Cherished mother of Gaston (Micheline), Jeannine (Ronald), late Donald and Thérèse (Peter). Loving grandmother to Richard (Christine), Julie (late Junior), Nathalie (Pierre), Michèle, Caroline (Edmond) Stephan (Micheline) and Chantal (Michael). Loving great-grandmother to Jannie, Levi, Danika, Simon, Jérémie, Jonathan, Elissa, Eve Marie, Lauriane, Jade, Amanda and Michael. She will be missed by her 2 sisters-in-law; Marie Luce and Laurence. She was also an amazing aunt to many nieces and nephews who cared for her very much. Predeceased by her parents Antonio and Paula (née Patrie) and all her brothers and sisters; Gerard (Leda), Roger (Jeanne) Henri Louis (Irène) Germain, Florien, Gertrude (Armand), Simone (Albert) and Clémence (Cyrénus).
She was born in Weedon, QC and moved to Ontario with her family in the 1940's. Bernadette retired from Port Colborne General Hospital after 25 years of service and Washington Mills after 20 years of service. She decided to retire at the age of 85. She had many passions including travelling and was very talented with knitting/crochet needles. Her catholic faith was very important to her and she was very dedicated to her church, Église du Sacré-Coeur. She loved being surrounded by her family and they would always look forward to that special phone call when it was their birthday. Every year she would sing you her special birthday song which will truly be missed by all. She has touched many people with her smile, her kindness and her love for life.

The family would like to extend their extreme gratitude to Gaetan Thibeault who was a very close friend to Bernadette and cared for her for many years. It was because of him that she was able to remain in her home for so long. The family would also like to thank Woodlands of Sunset for taking such good care of her. Although it was such a short stay, the staff was very attentive and very caring, and she felt like part of their family. You guys were amazing.
The Funeral mass will take place at Église Sacré-Coeur 72 Empire Street Welland, on Saturday, July 17, 2021 at 10 a.m. Inurnment will follow at Pleasantview Cemetery. Due to Covid restrictions, the capacity is limited for the service and your attendance MUST be scheduled. Please call WELLAND FUNERAL HOME at 905-735-1883 between 9 a.m. - 5 p.m. Also, those that attend are required to wear a mask and follow social distancing guidelines. As an expression of sympathy, donations to the Canadian Cancer Society and the Heart & Stroke Foundation would be greatly appreciated by the family.