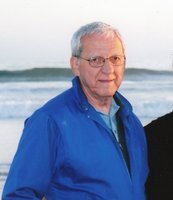 Gaston Joseph Guillemette
It is with heavy hearts that we announce the passing of Gaston Guillemette at the Foyer Richelieu on April 19, 2021 at the age of 82. Though his passing leaves a void that will never be filled, we are comforted by the fact that his suffering has ended, and he has gone on to a better place. He was an exceptional human being.... an ordinary man who did ordinary things in an extraordinary way. He was a compassionate, supportive, and loving husband to Juliette (née Bisson), father to Line Guillemette and Lise Frenette and grandfather to Zachary, Jacob, and Matthieu Frenette (Ashley Roy). He will also be sadly missed by his 7 siblings; Claude (late Alice), Michel (Laura), Pierre, Denis (Cheryl), Thérèse (late Gilles), Ginette (late Rolland) and Nicole (Rock); his sisters-in-law, Cécile Bisson, Madeliene Pinard (late Yvon), Aline Paré (late Gaston), Jeannette Gilbert (late John), brother-in-law Gerard Bisson, as well as many nieces and nephews. He was predeceased by his parents Fernand and Jeanne (née Lamontagne), his siblings Marcel (late Rolande) & Andrea (late Maurice) and sister-in-law Thérèse Laroche.
Gaston was a selfless man, always thinking of others and giving of himself. He was always helping family, friends, and giving in the community, by volunteering at Paroisse Sacré-Coeur in various capacities, and also at the Foyer Richelieu, where he spent hundreds of hours volunteering over the years. He was a man of few words, but he certainly enjoyed teasing, having a good time and listening to music. He was happiest puttering in his workshop and being outside either camping, fishing, or working around the house. He was employed at Wabasso Cotton Mill for 28 years, then at Cyanamide for 7 years. A special thanks to the angels (staff) at Foyer Richelieu, for their loving support in caring for Gaston over the last four years.
Funeral arrangements have been entrusted to WELLAND FUNERAL HOME. Following the families wishes, due to COVID-19, cremation has taken place and a church service & inurnment will take place at a later date. In lieu of flowers, we ask for donations to be made in Gaston's honour, to the Alzheimer's Society or to the Foyer Richelieu.