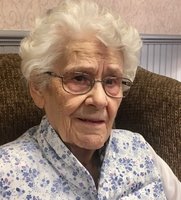 Simone (Gravel) Carreau
It is with great sadness that we announce the passing of our dear mother Simone Carreau on Wednesday, April 14, 2021 in her 95th year. Predeceased by her husband Marcel Carreau and her son Normand Carreau. Her patient, loving, and caring nature for her family was deeply rooted in her faith. She will be greatly missed by her children; Gatean (Mary Lou), Bertrand (Gail), Carol McRae (Bill), Michel (Aline), Daniel (Susan), Solange James (Jeff), George (Sandy), and Christine Caporicci (Joe), and her 21 grandchildren and 24 great grandchildren.
When Simone wasn't tending to her rose gardens, or making bread, she became an avid quilter. Quilting was a pastime that enabled her to explore her creativity and love of pattern and colour. She shared this love in over 150 quilts for her family. These quilts will warm our homes and hearts for years to come.
Throughout her life she was the thread that held together those around her. She leaves behind a tapestry rich with love, family, creativity, and the best recipe for bread.
Special thanks to; the palliative care team, especially nurses Margret & Jade, as well as the staff at St. Charles Village for going above and beyond.
Funeral arrangements have been entrusted to WELLAND FUNERAL HOME. As an expression of sympathy, donations to the Alzheimer Society or Hospice Niagara will be appreciated by the family.