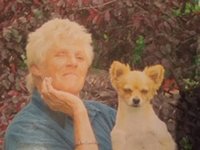 Laurette Robillard
A beautiful, courageous, and strong-willed woman, sister, mother, grand-mother, and great-grandmother Laurette Robillard passed away at home surrounded by her loving children; Diane, Marc, and Michel on March 5, 2021. She will forever be a special guardian angel to Jordan and his girls and missed by family and friends, especially Anna.
The family would like to express profound gratitude to Père Guy, Dr. Lawrence and Marsha as well as the supportive palliative team of Dr. Dooler, Jocelyne, Kim, Melissa and Megan.
Following Laurette's wishes cremation and a private ceremony have taken place. Memorial donations may be made to the Humane Society.